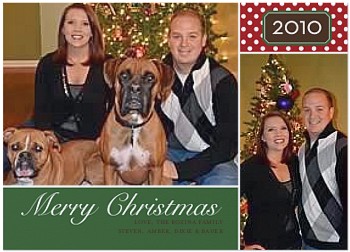 Peppermint Dots Christmas Card

So it's a super busy Monday morning here, unfortunately not much time to share what the weekend brought at my house. I thought I would leave you with a preview of our Christmas card - which has
finally
been ordered!
And also, for those of you who keep asking me about CrossFit and what the workouts are like, check out this
CrossFit Charlotte Video
by Boomer Alred, a CrossFit Charlotte member. It's only a minute long - so won't take too much of your time! Steven and I are both in the video towards the end - I'm wearing a Carolina blue shirt. Excuse my disheveled appearance, I was kind of busting my butt! :) (Sorry, I tried to embed the video - but couldn't figure it out!)
Hope everyone is having a great Monday!